Deepak Hooda is having a dream run in his professional career. Following a thunderous Syed Mushtaq Ali season, where he smashed 294 runs in 6 matches for Rajasthan at a strike rate of 168, Hooda made his India ODI and T20I debut in February.
The Comeback Story Deepak Hooda
Then in the IPL 2022, he further scored 451 runs for Lucknow Super Giants at a strike rate of 136. After which, Hooda continued his supreme touch and notched up his maiden T20I fifty and converted it into a century in the second T20I versus Ireland, on Tuesday.
This has been a stellar form shown by the Rohtak-born batter. However, not too long ago, Hooda's career was in a state of a standstill as he was serving a ban imposed on him by the Baroda Cricket Association on the ground of "indiscipline".
Image Source – Twitter
In January 2021, Hooda had walked out of the Baroda team on the eve of the SMAT after an ugly spat with Baroda skipper Krunal Pandya. Hooda was criticised by the BCA for leaving the team just prior to the start of an important tournament and was handed a suspension for the entire season. At that time came to his rescue was his family members and the Pathan brothers, Irfan and Yusuf.
"It still hasn't sunk in. The last year was certainly a roller-coaster, but with the help of Irfan bhai (Irfan Pathan), Yusuf bhai (Yusuf Pathan) and all the members of my family, I could overcome the odds and again dream big. It is difficult to describe the feeling in words, but for sure, this is one of the most rewarding moments," Hooda had told Sportstar after he was named in the Indian ODI squad for the West Indies series in January.
Hooda was first part of the Indian squad in 2017-18, but didn't get in the final eleven. After a long wait of five years, he was back again and made his debut too in both the white-ball formats.
"It took me five years to get another opportunity. To be honest, ahead of every season, I thought that this time I would break into the team, but that never happened. But the last one year taught me that you have to wait for your opportunity," he added.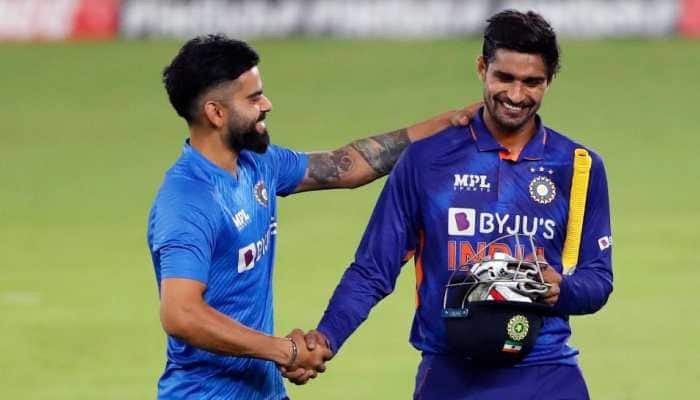 Image Source – Zee News
Ahead of this domestic season, Deepak Hooda left Baroda and moved to Rajasthan, where he struck gold and gave a reminder to everyone of his talent and abilities.
"Moving to Rajasthan was like a re-birth. It gave me a new lease of life and despite coming from a different State, I received a warm welcome and everybody – the team-mates, the coaches – were very welcoming. They made me feel at home and they supported me in every sense. They allowed me to bat in my position and lead the team. It has been an incredible journey," the right-hander added
Hooda credited the Pathan brothers.
"Irfan and Yusuf bhai deserve all the credit for helping me overcome the odds. Being a mentor, they taught me so many things and those lessons have actually helped me. Those days have made me a matured cricketer," Hooda stated.
It was, then, no surprise was Irfan was excited and happy when Hooda became only the fourth Indian male batsman to hit a T20I century.
Also Read: Twitter Is Impressed With Mumbai Indians' 'Master Plan' For IPL 2023