This – an extraordinary century in India's first innings of the Edgbaston Test vs England – wasn't a madcap innings – until it became one – by Rishabh Pant.
Rishabh Pant Played A Fiery Knock
Until he reached his three-figure score, this was a more calculated one – leaving the good balls, judging the lines and lengths well, yet also intimidating the bowlers – and despite that, he brought up his half-century off 51 balls, followed by the hundred off 89 balls, which is now the third-fastest ton by an Indian in Tests outside Asia.
Jonny Bairstow while fielding might have liked this innings from Pant. After all, on expected lines, the young left-hander brought Pant-ball to take on the Baz-ball.
Positivity is what England have been thriving on over the past month. Positivity is what Pant brought to the crease when he strolled in at the score of 64/3 which then slipped to 98/5 and in were standing Pant and Jadeja, the last recognized batting pair with the mercurial Shardul Thakur to follow and three number 11s after that.
Pant's first target was Jack Leach, who was walloped mercilessly last year in India. Leach had already been slapped down the ground by Jadeja, and now Pant whacked him for 4, 4, and 6, making their intentions clear that they want to put Leach out of attack despite taking the risk of losing their wickets.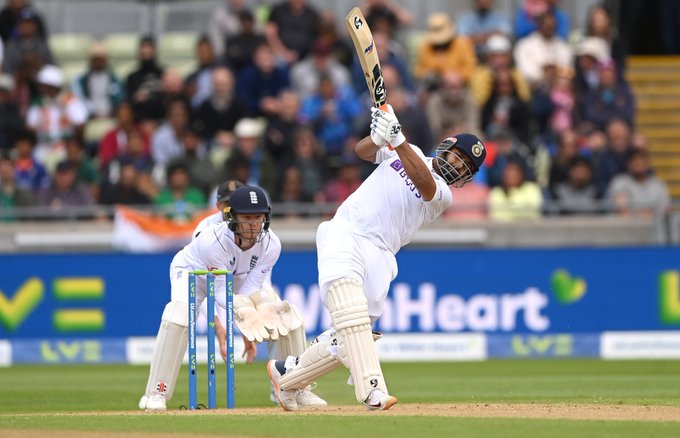 Image – Twitter
This partnership is what India's hopes hinge on; the two southpaws have kept them alive by Tea on Day 1 – with an unbeaten stand of 76 runs in 101 balls.
After Tea, Pant then just rumbled from thereon – not sparing any English bowler. Potts and Anderson, the pair who shared the first five wickets, were carted around the park for boundaries, including an audacious reverse-scoop and a skip downtown off the legendary seamer.
He reached his hundred in quick time. After that, it was sheer madness. Sixes down the ground despite fielders present there, six off only one hand, paddles. England were getting their medicine.
Netizens were effusive in praise of Pant, who brought up his fifth Test ton and is already being hailed as the greatest Indian wicket-keeper batsman in Test cricket.
Here are some of the best reactions to Pant's counter-attack:
Forget about being India's greatest Test keeper-batsman – he's scaled that already – RISHABH PANT is one of India's greatest Test batsmen ever. At age of 24! #INDvsENG

— Jatin Khandelwal (@jr_khandelwal) July 1, 2022
Thank you, Rishabh Pant pic.twitter.com/AHhQMIXvoi

— Rajasthan Royals (@rajasthanroyals) July 1, 2022
He may be bold but he bats in italics pic.twitter.com/U2DNVCFUJu

— El Chopernos (@El_Chopernos) July 1, 2022
Fire hai @RishabhPant17 pic.twitter.com/oEHlQtPLTT

— Kuldeep yadav (@imkuldeep18) July 1, 2022
Among the best centuries by an Indian batsman in recent years. Take a bow @RishabhPant17

— Cricketwallah (@cricketwallah) July 1, 2022
Rishabh Pant brings up his 5️⃣th Test century and all in good time.

Well played, champ! #PlayBold #WeAreChallengers #TeamIndia #ENGvIND pic.twitter.com/13ZcsC3rmv

— Royal Challengers Bangalore (@RCBTweets) July 1, 2022
When in trouble, call the Spiderman!

What a fierce knock by rockstar Rishabh Pant against a quality english bowling unit under such circumstances. Best way to fight a fire is to fight it with the fire. #EngVsInd pic.twitter.com/q2mPeqTWyi

— Amit Mishra (@MishiAmit) July 1, 2022
Rishabh Pant and his Punch in test cricket continues. Call him a super star for a reason!

— Irfan Pathan (@IrfanPathan) July 1, 2022
@RishabhPant17 simply amazing

— Rashid Khan (@rashidkhan_19) July 1, 2022
Super stuff @RishabhPant17 Easily the best WK batter in Tests right now #ENGvIND pic.twitter.com/Ue7CqWPtBJ

— Wasim Jaffer (@WasimJaffer14) July 1, 2022
The fist pump and exultant cry from Rahul Dravid from the balcony shows how much this Rishabh Pant means to him and his plans with this team!
What A Player! #ENGvIND #RishabhPant

— Arani Basu (@AraniBasuTOI) July 1, 2022
KING PANT IS HERE TO RULE pic.twitter.com/Ji1kY2G2HO

— Ketan (@RP17_ketan) July 1, 2022
PantBall happening

— Himanish Ganjoo (@hganjoo153) July 1, 2022
Most 50+ scores for India since Jan 2020:

10 Pant
8 Pujara
6 Kohli, Rohit

Most 100s in the same period: 2 each by Pant, Rahul and Rohit#ENGvIND

— Hemant Brar (@Cricquest) July 1, 2022
The best part about Pant's innings thus far has been the sheer effortlessness.

In spite of the fact that he has scored at over run-a-ball, it has felt like he never broke a sweat.

— Sparsh Telang (@_cricketsparsh) July 1, 2022
Indians to Hit 100 6s at 24 age

Rishabh Pant*
End of the List pic.twitter.com/QeRPcrsOzD

— Priyanshu¹⁸ 🇮🇳 (@Priyanshuinnn) July 1, 2022
Rishabh Pant becomes the youngest Indian to hit 100 international sixes.

— Mufaddal Vohra (@mufaddal_vohra) July 1, 2022
Rishabh Pant in Test cricket has:

2 fifty & 1 hundred in Aus.
2 fifty & 1 hundred in Eng.
1 hundred in Sa.

— Johns. (@CricCrazyJohns) July 1, 2022
Leach into the attack
Pant: pic.twitter.com/eiPSmtYLTl

— Saahil Sharma (@faahil) July 1, 2022
People quite literally haven't understood the worth of Rishabh Pant. Whattay playaaa! #ENGvIND

— Prajakta (@18prajakta) July 1, 2022
Watching Rishabh Pant play like this is a proper box-office stuff.

Whenever the team is in danger,this man has always delivered,specially in tests

The Name Is Rishabh Pant 🇮🇳 #ENGvsIND pic.twitter.com/Qe3WN6eTXz

— Rohan Sharma (@IamRohanSharma4) July 1, 2022
#ENGvIND

India can step into the tea break on Day 1 with some relief as Pant and Jadeja have fought back with a 76-run partnership after early blows from Anderson and Potts.

IND: 174/5 (44)

SonyLIVpic.twitter.com/yuDZoz2hZ6

— The Field (@thefield_in) July 1, 2022
England: "We are playing attacking Test cricket…"

Rishabh Pant: pic.twitter.com/iabRqMRRXx

— Peter Miller (@TheCricketGeek) July 1, 2022
Also Read: Rahul Dravid's Reaction After Rishabh Pant Reached His Century Has Gone Viral