In his first Test as India's captain, Jasprit Bumrah set a new world record – not with the ball, but with the bat as he hammered Stuart Broad for most runs in an over in Test cricket, in the ongoing Edgbaston Test.
After Rishabh Pant (146) and Ravindra Jadeja's (104) centuries, India were 9 down for 375  and would only have been hoping from some crucial runs by number 10 Jasprit Bumrah and number 11 Mohammed Siraj. However, what came next was hardly anticipated by anyone.
Bumrah consigned veteran English seamer Stuart Broad to the most expensive over ever in Test cricket. Broad leaked 35 runs in one over to Bumrah today (29 of which came from Bumrah's bat), going past the previous record of 28 runs each on three different occasions – Brian Lara to Robin Peterson, Johannesburg 2003; George Bailey to James Anderson, Perth 2013; and Keshav Maharaj to Joe Root, Port Elizabeth 2020.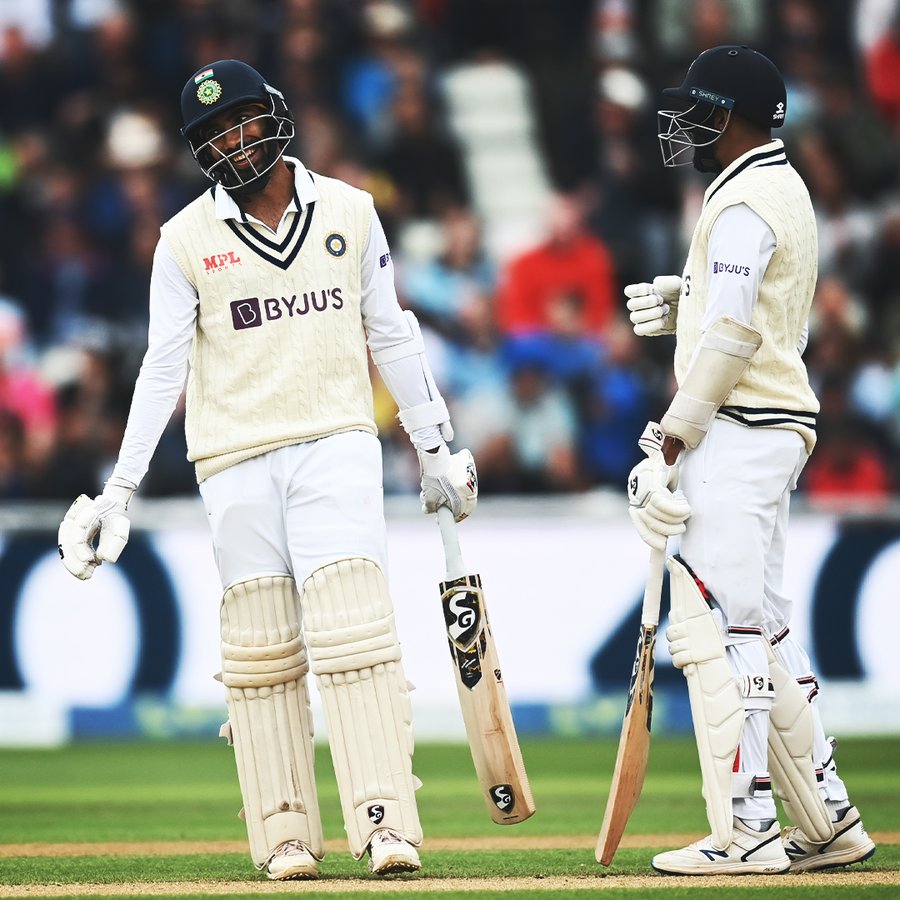 Image Source – Twitter
Broad already had the unwanted record for the joint-most expensive over in T20Is when Yuvraj Singh cracked him for six sixes in an over during the 2007 T20 World Cup in Durban. And now this.
Similar to last year at Lord's, England's short ball tactic against Bumrah backfired horribly today.
The over started with a couple of top edges and an inside edge – in between was a wide boundary over the wicket-keeper – all racing to and over the boundary behind square. After that Broad fumbled with a waist-high full toss that Bumrah dispatched for four followed by a boundary on the leg side before he smoked Broad over fine leg for a six, and concluded the over with a single to take the tally to 35.
Broad's over to Bumrah read: 4, 5Wd, 7Nb, 4, 4, 4, 6, 1.
Hundreds from Rishabh Pant and Jadeja, followed by Bumrah's assault took India's eventual first innings total to 416.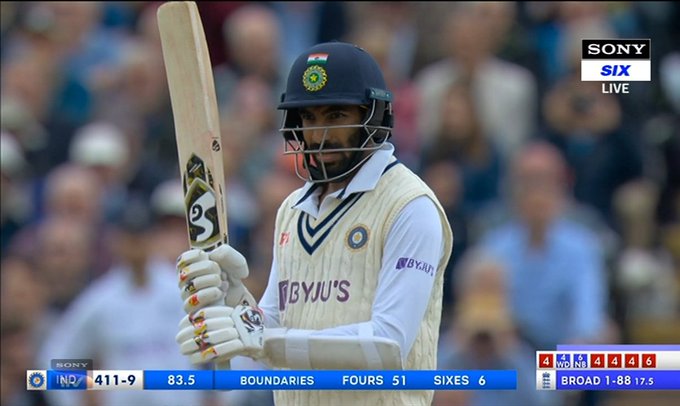 Image Source – Twitter
Bharat Army's superb reply to Barmy Army
And the banter continued off the field as India's Bharat Army trolled England's Barmy Army (the two groups supporting their respective cricket teams) on Twitter.
The Barmy Army had tweeted "Who is this Bumrah chap?" on October 18 last year when Bumrah had bowled well against England during the two teams' warm-up match encounter at the T20 World Cup in UAE.
The Bharat Army now brought that tweet up again with snap from today's clash where Stuart Broad is looking helpless while Bumrah smiles.
Here, check out the perfect reply by Bharat Army:
https://t.co/LeSn0NN6Zp pic.twitter.com/utPtretrQp

— The Bharat Army (@thebharatarmy) July 2, 2022
Also Read: Wasim Jaffer Hilariously Trolled England Cricket Team In His Trademark Style