England pacer Stuart Broad now holds the unwanted, unproud distinction of being the bowler to deliver the most expensive overs in T20Is and Test cricket. Incidentally, both embarrassing records were handed to Broad by Indian batters.
While it was Yuvraj Singh, one of the greatest-ever white-ball batters, who hammered Broad for six sixes at the 2007 T20 World Cup in Durban, today, at Edgbaston, it was Jasprit Bumrah, India's spearhead fast bowler leading the country for the first time, who handed Broad to this unboastful record.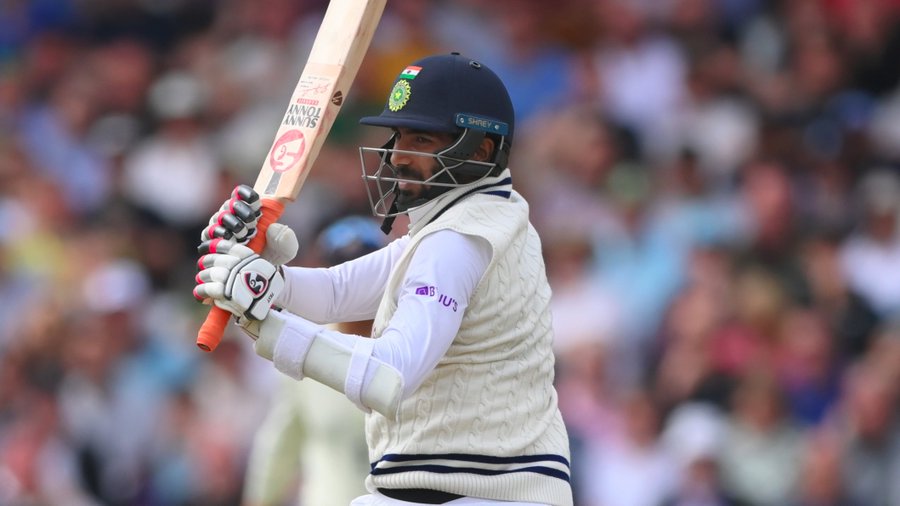 Image Source – Twitter
Broad leaked 35 runs in one over to Bumrah today, going past the previous record of 28 runs each on three different occasions – Brian Lara to Robin Peterson, Johannesburg 2003; George Bailey to James Anderson, Perth 2013; and Keshav Maharaj to Joe Root, Port Elizabeth 2020.
Stuart Broad becomes the meme of the town
Bumrah will happily take the pleasure of consigning Stuart Broad of this unwanted record, especially in his first Test as India's captain. Similar to last year, England's short ball tactic against Bumah backfired horribly.
Image Source – Twitter
While the over started with a couple of top edges and an inside edge – in between was a wide boundary over the wicket-keeper – all racing toward the boundary behind the square, Broad fumbled with a waist-high full toss that Bumrah dispatched for four followed by a boundary on the leg side before he smoked Broad over fine leg for a six, and concluded the over with a single to take the tally to 35.
The over read: 4, 5Wd, 7Nb, 4, 4, 4, 6, 1.
You can watch the record-breaking most-expensive over in Test cricket here:
BOOM BOOM BUMRAH IS ON FIRE WITH THE BAT

3️⃣5️⃣ runs came from that Broad over The most expensive over in the history of Test cricket 🤯

Tune in to Sony Six (ENG), Sony Ten 3 (HIN) & Sony Ten 4 (TAM/TEL) – https://t.co/tsfQJW6cGi#ENGvINDLIVEonSonySportsNetwork #ENGvIND pic.twitter.com/Hm1M2O8wM1

— Sony Sports Network (@SonySportsNetwk) July 2, 2022
Expectedly, Broad was trolled mercilessly on social media after each of his first five delivery produced a boundary as his short ball ploy unravelled against Bumrah, culminating in an incredible over where 35 runs were taken by India.
Here are some of the best memes on Stuart Broad's nightmarish over:
Stuart Broad everytime he sees a Punjabi man batting. pic.twitter.com/LEBWxhlKqO

— Abijit Ganguly (@AbijitG) July 2, 2022
Stuart Broad to @Jaspritbumrah93 the batter

An over to remember! A record shattering over! #ENGvIND pic.twitter.com/l9l7lslhUh

— BCCI (@BCCI) July 2, 2022
Some things change, some don't.#Bumrah #Broad #Yuvraj #ENGvIND pic.twitter.com/qTBGcVKDii

— Aadya Sharma (@Aadya_Wisden) July 2, 2022
Please have Baz call up Stuart Broad for ODI cricket and at least give him the chance to complete the set #ENGvIND

— Danyal Rasool (@Danny61000) July 2, 2022
15 years after t20is most expensive over Broad now holds the same record in Tests!! #INDvsENG

— Gaurav Sundararaman (@gaurav_sundar) July 2, 2022
Captaincy pressure? What's that? New captain Jasprit Bumrah made an absolute mockery of Stuart Broad in that over️ #INDvsENG #JaspritBumrah

— Unnati Madan (@unnati_madan) July 2, 2022
Broad concedes 35. He's improved from 2007.

— Saurabh Malhotra (@MalhotraSaurabh) July 2, 2022
Terrorised Anderson with the ball and Broad with the bat – Mission complete. https://t.co/nVZmRLTkWB

— Alagappan Vijayakumar (@IndianMourinho) July 2, 2022
Punjabis love to feast on Butter Chicken, Chhole Bhature and Stuart Broad.

— Sagar (@sagarcasm) July 2, 2022
Stuart Broad Grew Up #Bumrah pic.twitter.com/sa29StT7w8

— Varad Ralegaonkar (@varadr_tistic) July 2, 2022
Broad. Broader. Broadest.#ENGvIND #INDvsENG pic.twitter.com/jCSz5PGFJa

— Right Arm Over (@RightArmOver_) July 2, 2022
How we see
Bumrah How Broad sees
Bumrah pic.twitter.com/0DmGm6hZYv

— Bot Here (@iammessibot) July 2, 2022
Year 2007: Yuvraj smashes 36 in one over to Broad.

*15 Years later:

Jasprit Bumrah: pic.twitter.com/bpSFPJmMJg

— S A A D 🇵🇰 (@SaadSays22) July 2, 2022
Stuart Broad facing India https://t.co/KiWfx9cYU4 pic.twitter.com/uQMczIy5jo

— Sagar (@sagarcasm) July 2, 2022
THEN: @YUVSTRONG12 smashed 36 runs
NOW: @Jaspritbumrah93 smashed 35 runs

𝐝é𝐣à 𝐯𝐮 for Stuart Broad‍

: Sony Sports pic.twitter.com/y1bP6jIFGe

— CricTracker (@Cricketracker) July 2, 2022
Nothing just stuart Broad watching his records against india #bumrah #RishabhPant pic.twitter.com/y8Kp8Skn8D

— Abhishek (@abhi_kunn) July 2, 2022
Stuart Broad
Then Now#ENGvIND pic.twitter.com/MNJNGIRwXk

— Thyview (@Thyview) July 2, 2022
#INDvsENG #ENGvIND #Edgbaston#testcricket #Bumrah

Sad story in career of Stuart Broad

Yuvraj Singh – 36 Runs
Jasprit Bumrah – 35 Runs pic.twitter.com/RYAtdi7c78

— g0v!ñD $#@®mA (@rishu_1809) July 2, 2022
Also Read: Sachin Tendulkar Wrote A Hilarious Tweet For Jasprit Bumrah