James Anderson is one of the greatest Test seamers ever. Period. It's absolutely difficult to get away with his home conditions. Yet, for Rishabh Pant, the 24-year-old daredevil, Anderson is just another bowler against whom he wants to score runs off weird-looking shots.
He did it last year in Ahmedabad, reverse-scooping the leading Test pace wicket-taker of all time. But today, in Anderson's home conditions, with a cloud cover, the pacer already having taken three wickets – Pant did it again. A reverse-scoop, out of nowhere.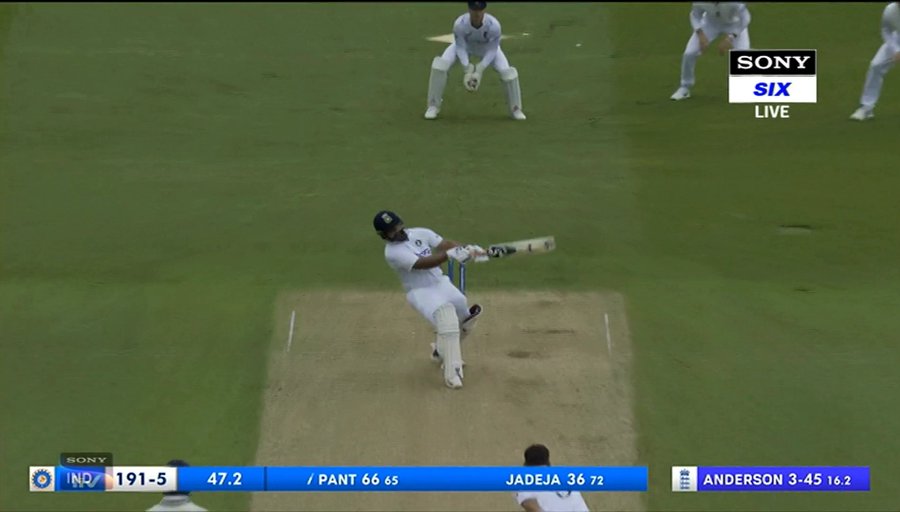 Image Source – Twitter
Rishabh Pant hits 146 runs off 111 balls
And while this time it didn't go for a boundary, and only a couple, it got the fans up from their seats, the commentators surprised, and Anderson, like he was last year, clueless as to what to do.
Pant was set, growing in confidence in his innings, by the time he played this shot. But still. It felt WOW. The reverse-scoop, of a seamer, body misbalancing, almost falling, but the audacity remains high as ever as it was Pant had started out.
Here, watch the reverse scoop by Pant, in the gloomy Edgbaston, off the greatest bowler England have ever produced.
Why does Rishabh Pant always look to reverse sweep Jimmy Anderson? Strange #RishabhPant #JamesAnderson #INDvsENG pic.twitter.com/EtvUaEBAce

— Sports_Lover Joshita (@Joshita_SL) July 2, 2022
Rishabh pant reverse sweep attempt yesterday against Andersonpic.twitter.com/7aGH88d0Nt

— Aditya (@AdiKGP) July 2, 2022
Want to see the one from last year where Pant pulled out this rabbit from his hat of tricks to amaze the world, not least Anderson who had seen it all in his long, illustrated career until Pant came along with this fancy shot. Listen to the commentators who are scrambling for words to describe Pant's shot.
Here you go:
Throwback to the Rishab Pant's reverse scoop to Anderson. #INDvsENG
pic.twitter.com/fqqpYSTWBy

— Jack leach (@CalllMeJP) July 1, 2022
Meanwhile, Pant and Ravindra Jadeja shared a mammoth 222 runs stand off 239 balls, taking India from 98/5 to 320/5 before Pant (146 off 111, 20 fours, 4 sixes) got out. After losing Shardul Thakur as well, Jadeja remained unbeaten on 83 with India's score being 338/7 at Stumps on Day 1.
Also Read: Dinesh Karthik Shared A Heartfelt Tweet After Making Indian Captaincy Debut Against Derbyshire